Paint Brush Roller Cover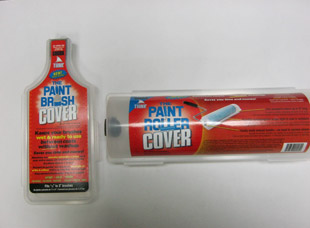 For over four decades, we at Reube's Plastics Company, Inc. have been trusted providers of premium plastic injection molding services for customers across a spectrum of industries. We cater to custom requirements, developing and executing solutions for our customers' particular applications. In the job highlighted here, we were contracted to manufacture the product known as The Paint Brush & Roller Cover. These innovative products are air tight covers, designed to store wet paint brushes to inhibit drying. Conceived by Likwid Concepts, professionals in the paint industry and debuting on the popular show "Shark Tank," these covers conveniently keeps brushes and rollers moist to eliminate the chance of ruined brushes or rollers. Additionally, the hassle of having to clean the brush before a pause in work for lunch or breaks is no longer an issue.
We created the unit with our recognized injection molding process, employing our state of art Sumitomo 310 T Electric injection molding machine and mold making capabilities. The covers are composed of clarified polypropylene, a low cost material exhibiting transparency, possessing excellent moisture barrier, strong chemical resistance, and an excellent balance of stiffness and flexibility. The material was molded into the specified form, and the branding and information graphic was applied with our custom automated labeling equipment. Along with exceeding our customer's expectations, this project is another example of how ingenuity and automation can keep us competitive with China. Please contact us to learn more about this paint brush cover production or for further details about our diverse capabilities.
Paint Brush Roller Cover Highlights
Capabilities

Injection Molding
Automated Label Equipment
Equipment

Sumitomo 310T Electric Injection Molding Machine
Material Used

Clarified Polypropylene
Estimated Part Weight

.15 lbs
Industry for use

Painting