Deepwell Paint Tray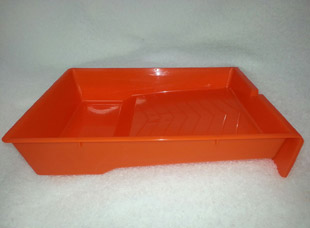 At Reube's Plastics Company, Inc., our production resources include a significant number of automated, high-speed injection molding machines that allow us to run production on an around-the-clock basis. The paint tray highlighted here, which we manufacture in large quantities, represents the type of product that is well-matched to this production scenario.
This deep well paint tray features dimensions of 15.0" in length x 12" in width x 3.0" in height. Molded from a 0.65 lb shot of polypropylene, we manufacture them in various color configurations. Most production runs also involve label application, which we take care of in-house as well.
One of the key factors in achieving consistent part quality is the tooling. Leveraging the technical capabilities of our mold makers, we built high-integrity injection molds to ensure zero-defect production over an extended product lifecycle. For a relatively inexpensive end product, it was essential for us to keep manufacturing costs low and yield rates high. This is where our electric injection molding machines played an important role.
Our Sumitomo 385T electric injection press is digitally controlled and mechanically driven, which allows for excellent precision and repeatability. This machine is very stable and operates at fast cycle times, so we can confidently let production run unattended for long periods. Another benefit of this electric press is its low operating overhead in terms of both energy usage and maintenance, especially when compared to a hydraulic press. All of these factors allow us to keep tight control over the unit costs to provide the client with an economical advantage.
Continuous process monitoring plays a vital role in unattended production processes. Although there might not be a worker standing at the machine, we carefully monitor all process variables and track data from in-process sensor systems to ensure process and product integrity. Additional quality assurance processes include testing flexural strength of the finished product.
By using quality materials and executing a stable process, we turn large volumes of product out within a very small delivery window. We also keep an ample store of product on-hand to ensure we can replenish our customer's inventory on a moment's notice through our stocking program. Our high level of customer service has led to a long-term relationship with this client.
If you are interested in learning more about our injection molding capabilities, contact us today.
Deepwell Paint Tray Highlights
Equipment Used to Manufacture Part

Sumitomo 385T Electric Injection Molding Machine
Overall Part Dimensions

Length: 15"
Width: 12"

Height: 3"
Weight: 0.65 lbs.
Material Used

Polypropylene
Material Finish

Various Color Configurations