HDPE Milk Crate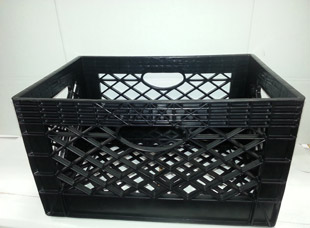 Milk crates are a ubiquitous object you see around all the time and probably don't give much thought to how they are manufactured, unless you are a dairy operator. Appreciated for their strength and sturdiness, the injection molded milk crates produced here at Reube's Plastics Company, Inc. have the longevity to last many years. Able to withstand the abuses of everyday use, they tolerate extreme temperatures without cracking and hold up under weighty loads - both filled and when stacked - without warping or deforming. They can be used for decades before entering the recycling stream.
The milk crate highlighted here is used for the storage and transport of 24 quarts of milk and accommodates several different sizes of container. We manufactured it from recycled HDPE. In addition to being impact and wear resistant, HDPE can withstand the cold temperatures found at the dairy plant as well as exposure to the sun and variable weather conditions when left outside in warm or cold climates.
The quality of the mold allowed us to injection mold at an accelerated rate using a four pound shot of material on our Toshiba 610 press. By building repeatable precision into the process, we were able to achieve the close tolerances needed to ensure the contents fit with the correct clearances and the containers stacked atop each other well.
We used a hot-stamping process to add branding information, and executed visual and dimensional inspection to validate accuracy. Designed for maximum structural integrity and measuring 18.75" in length x 13.00" in width x 10.75" in height, these milk crates featured ergonomic handles for easy lifting and an open grid design that promotes visibility of the contents.
We keep this tooling in top-notch condition in order to fulfill orders both large and small within narrow timelines. Our facility is strategically located for logistical access, which allows for fast shipment of orders of any size. We continue to mold these milk crates for this customer, who knows they will receive a high quality, environment-friendly product on their strict delivery schedule. This stable and reliable production process is also applicable to other products, such as totes, bins, and trays used by food and beverage processors.
HDPE Milk Crate
Equipment Used to Manufacture Part

Toshiba 610 Ton Injection Molding Machine
Overall Part Dimensions

Length: 18.75"
Width: 13.00"

Height: 10.75"
Weight: 4.00 lbs.
Material Used

Recycled HDPE (High Density Polyethylene)
Material Finish

Black