Aroma & Taste Scented Blocks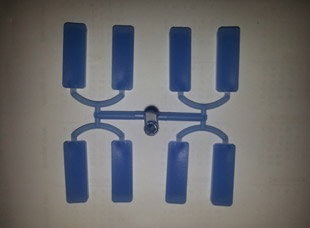 If you perused a list of the many unique products we manufacture here at Reube's Plastics Company, Inc. on it you would find small plastic blocks that we infuse with scent or flavor. Although the plastic tabs highlighted in the photograph seem simplistic in nature, a great deal of work went into their development. We got involved in this project early on in the concept development stage, and collaborated very closely with Scentsational Technologies, LLC to develop proprietary blended plastics to achieve their program objectives. Since inception we have added a hookah tips and dog bones to our scented/flavored products.
As a supplier of injection molded components since 1969, we have a firm understanding of all different types of plastic materials and make it our business to keep up with all new developments in the field of engineered resins. Our materials experts approached this project with a lot of enthusiasm. It gave them the opportunity to use their ingenuity to develop a one-of-a-kind compound to satisfy a set of very specific requirements.
We worked side-by-side with the customer during the research and development process. After selecting the proper resin, Scentsational Technologies, LLC customized it with various additives, modifiers, and flavor and aroma agents to create sample batches. During the development process, we ran a fair number of trial runs of these various mixtures to come up with a performance-optimized formula that would impart the right taste and scent into the final product. This proprietary formula allows us to use the same base resin and then vary the color, aroma, and taste profile to meet the criteria for different applications. This opens the door to a multitude of products.
While the compound development was in progress, we took advantage of that lead time to build the injection mold tooling based on the 2D CAD file the client had supplied. We engineered the mold to produce eight tabs each measuring 1.5" in length x 0.50" in width x 0.20" in thickness in the configuration shown in the picture. We continue to produce this in high to moderate quantities based on client demand.
From the initial concept to ramp up to full-scale output, our engineers and technical specialists leveraged their creativity and experience to ensure that we produced a consistent, quality product. When your next project calls for a higher caliber of plastics expertise, we welcome the opportunity to hear from you.
Aroma & Taste Scented Block Highlights
Equipment Used to Manufacture Part

Goldstar 100T Injection Molding Machine
Overall Part Dimensions

Length: 1.5"
Width: 0.50"

Height: 0.200"
Weight: 0.005 lbs.
Material Used

Proprietary Blended Plastics